Your insurance plan likely requires you to cover a portion of the cost of your visit in the form copayments, coinsurance, and/or deductibles. If we are unable to determine an exact figure for your out-of-pocket responsibility at the time of visit, we will charge you approx. 90% of what we believe you owe, and collect the remainder once we bill your insurance and have an exact amount.
Example: If you owe 30% coinsurance, we estimate what you owe us based on our fee arrangement with your insurance company. For a counseling visit, the insurance fee might be $110, of which we would expect $33 coinsurance (30%). We charge you $30 at the time of visit, and adjust later for the remaining $3 once we receive a response your insurance plan.
We operate a mostly virtual practice. This means our front desk does not have the ability to speak to you at each visit, as you connect with our providers directly via video. You are still responsible for being in touch with us before/after each visit to pay your portion of the cost of the visit. If you do not make a payment for the visit within 5 days of your appointment, we add a $5.00 charge to your bill for the visit. These fees can add up; please be in touch with us to ensure you do not incur these fees.
The grid below shows our services and the typical frequency to be expected in treatment. Treatment services will vary based on your individual course of treatment.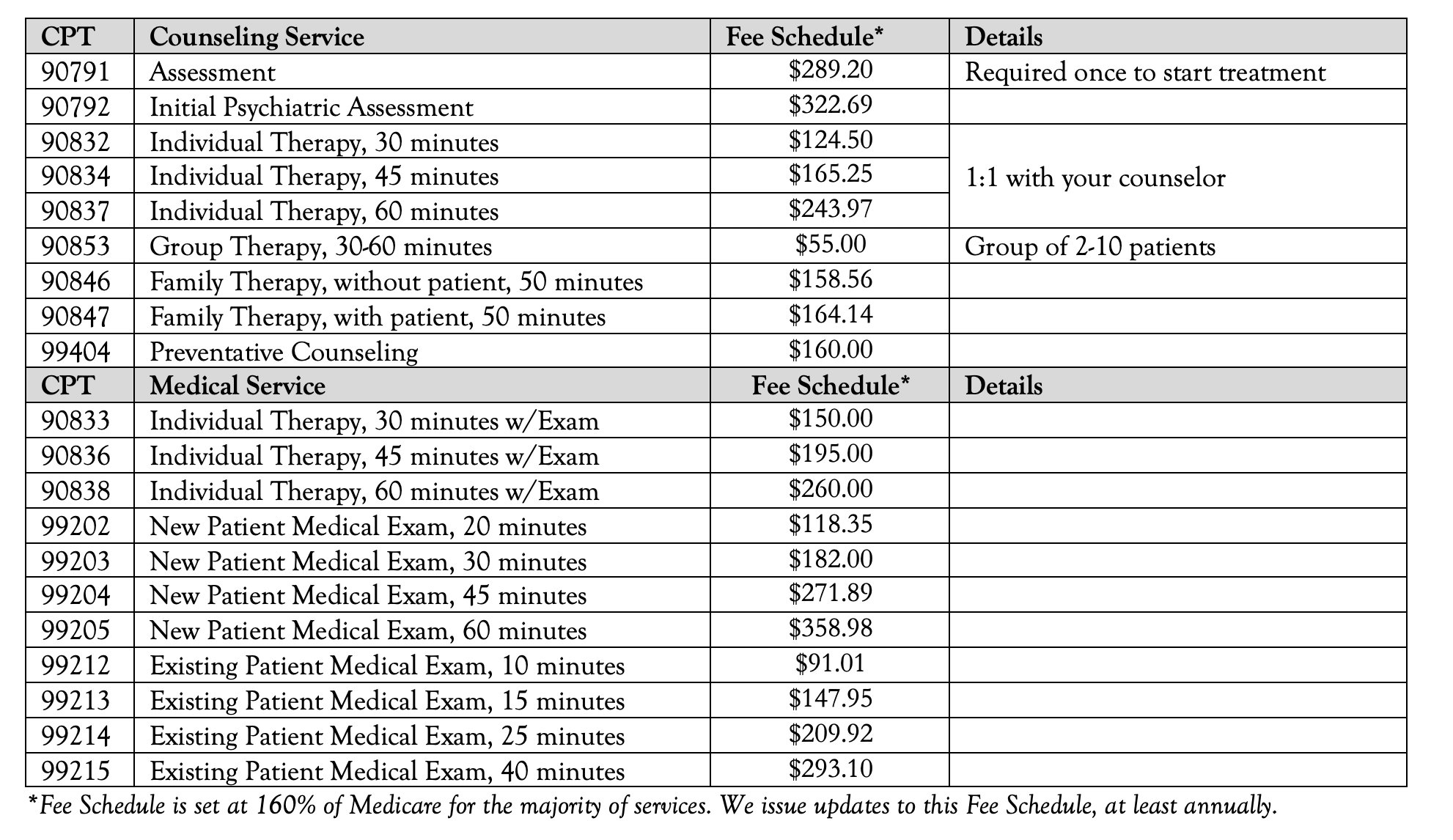 Kemet does not accept Medicare or Medicaid insurance plans at this time. As a result, while these plans would normally pay patient balances, you will be held accountable for these costs. You agree to pay the amount that Medicare/Medicaid normally "covers". This is often a co-pay or deductible from your insurance. If you have questions contact our front desk.